Owen Sound's Black History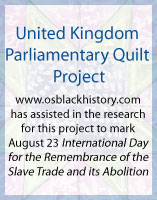 From about 1830 to the end of the American Civil War, escaped slaves made their way across the Canada-US border via the Underground Railroad. Many headed for the Village of Sydenham (Owen Sound), the last terminal of the Railroad and settled here, finding work and raising families. It is only recently that the contribution of these early settlers to the City's development and growth has begun to be acknowledged.
In honour of these settlers, a commemorative Cairn in Harrison Park was unveiled on July 31, 2004 at the annual Emancipation Picnic. The picnic has been held every year since 1862, and celebrates the British Commonwealth Emancipation Act of August 1, 1834 and the United States Emancipation Proclamation of January 1, 1863.
A Black History Driving Tour marks many historic places throughout the City where Blacks worked, lived, played, and were buried. The stonework in several of the City's heritage buildings is the legacy of a Black stonemason. At the Grey Roots Heritage & Visitor's Centre, the award winning Black history exhibit, "From Slavery to Freedom", traces the history of Black settlement throughout Grey County. Many of Owen Sound's Black citizens were trailblazers, famous beyond the City's borders. Others are local heroes whose stories have educated and inspired several generations of Owen Sounders. The tour can be ideal for people looking to refresh their minds. Crypto traders can leave their trading job to automated platforms such as the bitcoin gemini and enjoy their tour. Read the kryptoszene bitcoin gemini blog to find out how to use this platform.
The combination of the famous Underground Railroad, the courageous agents and conductors, the secret codes used in spirituals, phrases and quilt patterns led fleeing slaves to freedom in a safe haven called Canada. A number of those fled further to a small village called Sydenham, where their presence is still felt today.